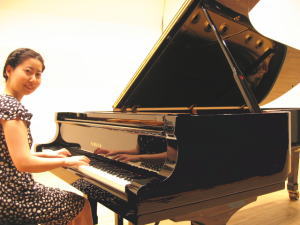 Akiko Piano Music offers you mp3s recorded acoustic piano performance and their printable sheet music (PDF).
You can purchase and download piano music composed, arranged, and performed by Akiko Kondo,
a Japanese pianist and a singer song writer.
A sweet tune of piano will make you feel comfortable

Akiko launched her debut single "Message for You"♥
Akiko's first pop song
Akiko Kondo released her first song "Message for You" on December 18, 2014. She handled music, lyrics, arrangement, performance, recording, mixing, and mastering of this song. This is a pop song with an impressive backing track of piano.
It's available for download on iTunes store and other digital music distributors.
iTunes Store
Japan / U.S / Canada / UK / Australia /
India / Russia / Brazil / Ireland / Italy / Germany / France / …and more.